Una muna sa lahat, kung hindi mo/niyo alam kung ano/kailan ang araw na ikaw ay pinanganak, punta ka muna sa website na to
http://www.viloria.com/viloria/adi/guardian.shtml

ARCHANGELS
St. Gabriel
Monday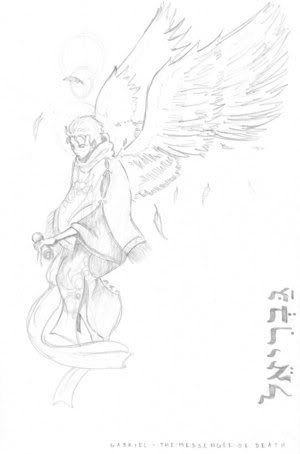 Gabriel means "Man of God" or "Might of God". He is the herald of the mysteries of God, especially the Incarnation of God and all other mysteries related to it. He is depicted as follows: In his right hand, he holds a lantern with a lighted taper inside, and in his left hand, a mirror of green jasper. The mirror signifies the wisdom of God as a hidden mystery.
St. Raphael
Tuesday


Raphael means "God's healing" or "God the Healer". Raphael is depicted leading Tobit (who is carrying a fish caught in the Tigris) with his right hand, and holding a physician's alabaster jar in his left hand.
St. Uriel
Wednesday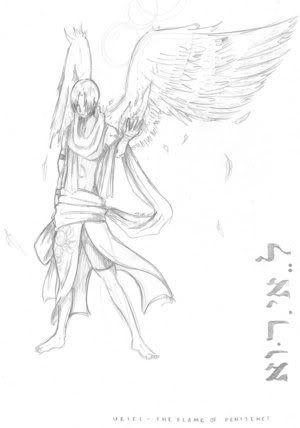 Uriel means "Fire of God", or "Light of God". He is depicted holding a sword against the Persians in his right hand, and a fiery flame in his left.
St. Sealtiel
Thursday

Sealtiel means "Intercessor of God". He is depicted with his face and eyes lowered, holding his hands on his bosom in prayer.
St. Jegudiel
Friday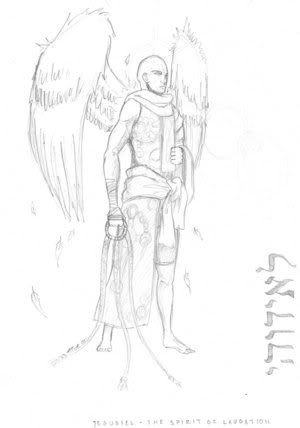 Jegudiel means "Glorifier of God". He is depicted bearing a golden wreath in his right hand and a triple-thonged whip in his left hand.
St. Barachiel
Saturday

Barachiel means "Blessing of God". He is depicted holding a white rose in his hand against his breast.
St. Michael
Sunday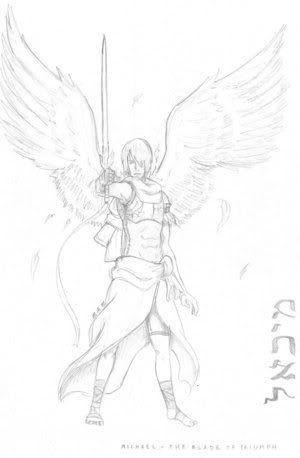 Michael in the Hebrew language means "Who is like unto God?" or "Who is equal to God?" St. Michael has been depicted from earliest Christian times as a commander, who holds in his right hand a spear with which he attacks Lucifer, Satan, and in his left hand a green palm branch. At the top of the spear there is a linen ribbon with a red cross. The Archangel Michael is especially considered to be the Guardian of the Orthodox Faith and a fighter against heresies.
OTHER ANGELS
St. Azrael
The Angel of Death

He is responsible for parting the spirit of the human from the body at the time of departure from this earthly realm. The Qur'an never uses this name, referring instead to Malak al-Maut (which translates directly as Angel of Death). The spirit is removed from the body from the same point it entered, via the Latifa located between the eyebrows, known as the Khafi, or the Hidden.
Lucifer
The Light-bringer

a fallen angel stems from a particular interpretation, a passage that speaks of someone who is given the name of "Day Star" or "Morning Star" ) as fallen from heaven. and elsewhere, the same Latin word lucifer is used of the morning star with no relation to Satan. However, in writings later than those in the Bible, the Latin word has often been used instead as a proper name for Satan.
St. Jeremiel
The 8th Archangel

"God's exaltation". He is venerated as an inspirer and awakener of exalted thoughts that raise a person toward God